The True-badour selected for 2019 APEX Award of Excellence
The True-badour selected for 2019 APEX Award of Excellence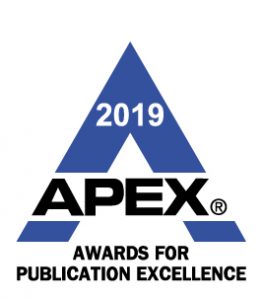 Now in our 4th year of publication, The True-badour has been selected for the 2019 Award for Publication Excellence by Communications Concepts, Inc. 
The award was presented from over 1,200 reviewed. Among the winners were such notable publications as AARP, Ford Motor Company, NASA, AARP, American Bar Association, Humane Society, City of Austin, Perdue University, Texas Farm Bureau, the VFW, and others. We are honored and humbled to be among such publications.

In our four years, we have published many fine poets, songwriters, and authors. Without them, this award would not have been possible. Without lessening the contributions of some recent writers, I would like to especially thank the following who have been contributing the longest. Billy Wall, a children's author and poet from St. Augustine, Fla has been with me since the beginning. Billy and I went to school together in Bryan, Texas along with John Howard Hatfield. I look forward to each issue to see what Hatfield is going to come up with. He never disappoints. Nashville songwriter Bart Ambrose has been with the True-badour the entire time. It was a pleasure to join Bart in Nashville for a songwriter's roundabout last year. I had a great time. Also featured in the first issue, and one who has contributed to several issues since is Dripping Spring Poet Laureate, Doyle Fellers. Doyle's poetry has been a real treat to read, and an honor to include. Another Nashville songwriter who contributed to Issue 1 was Kriz Rogers.
I hope I don't leave anyone out, but others who have joined the ranks over the last four years have been Rox Burke, (Enigma series of best-selling and award-winning books) who has promoted me and Aim-Hi Books to the max. Thanks, Rox for your faithful support. Alan B. Bourgeois, the head of Texas Authors, Inc. has not only been a contributor but has also wished us well. We also want to mention Gretchen Rix who has supported me and helped promote me to others (Brown, Ill Met by Moonlight); Charles Breakfield (in partnership with Rox Burkey in the fabulously popular Enigma series of novels); Nancy Fielstien, Dripping Springs Poet of the Year 2019 (an host of Thirsty Thursdays); Carolyn Stovall who writes about food and has shared great recipes (A Texas Girl Cooks, and Granny Ozark's Treats); and K. Wendt of Hamilton Troll fame, and great award-winning author to boot (recently released Burned on Sunday).
I want to thank other contributors who have made this newsletter interesting and more valuable: C.M. Bratton, Jackie DeHon, E.L. DuBois, T.J. DuBois, Michael Earney, Mae Edwards, Amy Francis, Carole Gilbert, Aubry Ray Hobson, Clara Hoffman, Sammy Hundley, Cynthia Juniper, Kenny Lee, Mark Liebman, Julie Morris, Mike Parrish, Janice Murphy, John Payne, Robert Pietzsch, Robert Slone, Tim Tingle, Greg Walston, John Wolfe, and Aaron Zook. 
I hope I didn't miss anyone – if I did please let me know. Without all of your combined contributions, The True-badour would not be an award-winning newsletter.
Finally, I want to thank our loyal readers who have remained subscribers. Some of you are new, and some of you have been with us since the first issue. We wouldn't be producing The True-badour without you. What need is there of a book, or a poem, or a newsletter if no one is there to read it? You are important to us, and to all of the writers listed above. Continue to support the True-badour and our contributing writers. You readership is what we need, and by doing so you will keep those poems, songs, novels, and short stories coming.
Blessing to all.
Ernie Lee * Publisher